Hello everyone! It has been a while since I wrote one of my 'writerly ramblings' posts. I think last time, I wrote about herding behaviour and book reviews.
Well, since then, I have been writing book five of the Curmudgeon Avenue Series 'The World Does Not Revolve Around Curmudgeon Avenue'. As I come to the end of this process, my mind is wandering – not to the next book in series, like a normal person – NO! I am thinking about the next book I plan to write after this…
This may or may not be a supernatural-inspired narrative. Obviously, I can't share anything about this idea because I've got two more novels to write first – but this is how my mind works. In the future!
When I was young, I loved books and TV programmes about witches. My mum told me that when she was expecting me, she suggested that my older sister choose my name. She did, and here I am SAMANTHA. When my big sister was annoyed at me, she would remind me that she had chosen my name… after a witch.
I am talking about Samantha from 60s American sitcom Bewitched. (Re-runs of this featured heavily on UK TV in the early 80s when I was growing up. I did not care if being named after a witch was intended as a negative (on days that I was annoying) Samantha was awesome! She could wiggle her nose and get all her housework done by magic (interesting what I aspired to as a child).
For a long time, I had a memory of visiting a shop in Pendle (you've heard of Pendle, right? The place in Lancashire famous for the Pendle Witch Trials of 1612)
I was about five years old and walking towards the shop and holding hands with my mummy, a 'witch' at the front of the shop spoke to me.
Witch: Hello little girl what's your name?
 Me: Samantha
Witch: Oooh! That's a witch's name!
Me: (In my head) I totally knew I had special powers!
Forty years later, my husband drives me (it takes just under an hour to get there from our house) to 'Witches Galore' the very same witchy shop!
The woman who worked there was really helpful. I told her about my witch name and she told me that, the witch outside the shop was actually a witch doll that used to talk to customers. Unfortunately, the witch dolls were stolen!
The next day, I (socially distanced style) visited my parents. I was worried that they had let me think I had a witch name and possibly had special powers for forty years and that this witch-doll says the same thing to everyone.
Fortunately, my Mum eventually remembered that, yes, it was a witch doll that spoke to me, but it was powered by the woman behind the till and her microphone. Brilliant! I do have a witch name it's official. I don't have special powers though.
I bought a tea towel and two books about the Pendle Witch Trials. Then I came home and bought some more books about witches.
Below are some covers of the books about witches I liked when I was young.
The Worst Witch by Jill Murphy (the covers did not look like this in the 1980s and I don't remember there being that many.
Witchdust by Mary Welfare. This appears to be out of print – gutted. I am keeping a close eye on my copy!
Mrs Pepperpot by Alf Proysen. Although not named as a witch, Mrs Pepperpot would magically shrink as small as a pepperpot. I think she might have been able to talk to animals as well.
And from TV:
Grotbags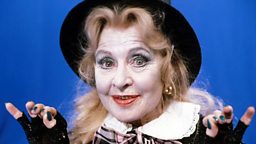 McWitch from Rentaghost
Thank you for joining me today on my rambling about witches.
Glad I got that out of my system,
Samantha xx