Thank you for joining me today on my fortnightly writerly rambling post. Last year, I was lucky enough to take part in the #DecTheShelves challenge on Twitter (organised by advanced league blogger and writer Deborah J Miles at Against The Flow Press https://againsttheflowpress.blogspot.com/ Raintown by Andy Donaldson was one of the featured books, written for age 9-14 I gifted three copies to some of my friends' children.
Set in a rainy town just like Ramsbottom up the road from me in Brandlesholme (near Bury) Andy Donaldson came up with a name for a fictional rainy town – Shigbeth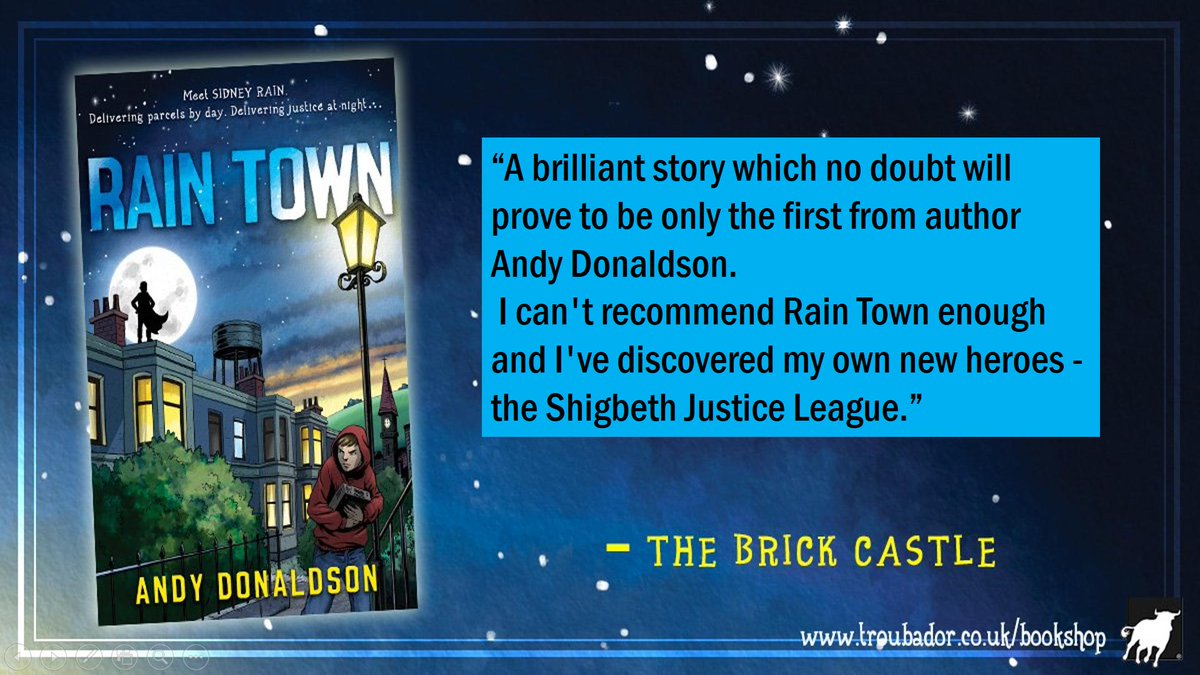 Thanks, Andy for your guest post:
What's in a (character) name?
As 'Rain Town' is a book for children aimed at Middle Grade to Young adults, the names of the characters need to 'work.' By that I mean, they needed to be simple, relatable and fit the genre which in this story is comic, ordinary and in some ways slightly nostalgic. The story is set in an average, North of England type, rainy, brick terrace small town and so the names of the characters needed to match. Sidney and Stanley, Billy and Bobby Bathurst, Charlie and Chloe et al were chosen because they just seemed to naturally fit this premise. There wasn't much thought that went into it. The names matched the personalities and the imagined environment. Good guys like Stanley Rain and Charlie Green have warm, short names perhaps with nods to the occupants of childhood comics from the Eighties like 'Roy of the Rovers' and 'Whizzer & Chips.' Nigel Greenstock became the villain because to me the name seems to match the sort of character who is a bit slimy and 'up to no good.' It works well for a certain Mr Farage so why not here in the town of Shigbeth?
At the heart of the book is Sidney Rain, part time Dad, delivery driver and superhero crime fighter inthe form of his alter-ego 'The Raven.' 'Sid' just seemed to work with the character perfectly. Slightly dim, down to earth, a touch industrial and rugged with a hint of the hapless and comic. Underneath this ordinary exterior is a heart of gold; a man who just wants to do his best by his son and his few friends. However, there is also a bit of a subconscious reason for giving him the name Sidney. My Grandad was Sidney Charles Cousins and although I didn't have him expressly in mind when I started out on the book, there are elements of him that have emerged in the character Sidney Rain. The real life Sid was also at first glance a pretty normal and unremarkable man. He was someone who was very definitely grounded with very few 'airs and graces.' He fixed planes during the war and eventually at airports once the post war period developed. Highly skilled but manual labour,a bit old-fashioned, uneducated at least academically and not exactly politically correct. I still remember him standing at the top of the stairs outside the bathroom first thing in the morning in his string vest and pyjama bottoms, mug of tea in hand, smelling of 'brylcream', shaving foam and 'Old Spice' aftershave. Underneath all that was a man who had spent his life just wanting to do his best by his friends, family and his grandchildren. Like the Sidney in the story, a man who didn't need a cape, a mask and boots to be a hero.
No longer with us, I would like to think that somewhere Grandad Sidney is in his favourite chair, reading about the adventures of Sidney Rain, chuckling along, with a massive mug of tea on the go.
And Donaldson Author
Teacher by day, Writer by night.
Author of 'Rain Town'. The next one in the series has just been finished too…
You can find me on Twitter @AndyRainTown.
Buy a paperback copy of Raintown here
'Is there anyone there?' he tentatively enquired at the shadows. There was no response. Must have been a cat he thought. His pulse calmed and he wiped the sweat from his brow. The young thief turned away from the alley and the road and once more urged his feet to move on. 'What are you doing little boy?' commanded a booming voice from the alleyway.
Sidney Rain is an ordinary man with an ordinary job in an ordinary town. Except for the fact that sometimes at night he dresses up as a superhero and heads out living his fantasy. But he's putting on weight, about to lose his job and he's generally not feeling particularly super at all.
Stanley Rain is Sidney's 12 year old son. He's an ordinary boy with ordinary friends at an ordinary school. But that school is being taken over by a local entrepreneur and is changing for the worst. And Stanley is not going to let that happen without a fight.
When a mysterious theft takes place, Stanley and his friends will need to turn detective to help save their school. And after being fired at work by his new boss, Sidney will need his friends to help save his soul.
Thank you so much Andy for writing a fab book I was able to gift to my fab friend's boys from Ramsbottom.
Join me next time when Sharon Booth tells us about her character names – it's gonna be awesome!
Happy reading, Samantha xx